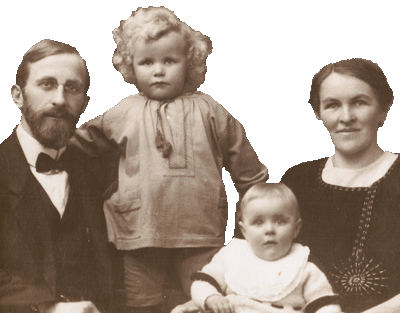 Reinhard (Papa), Rheiny, Betty, and Frieda Frauenfelder in 1923.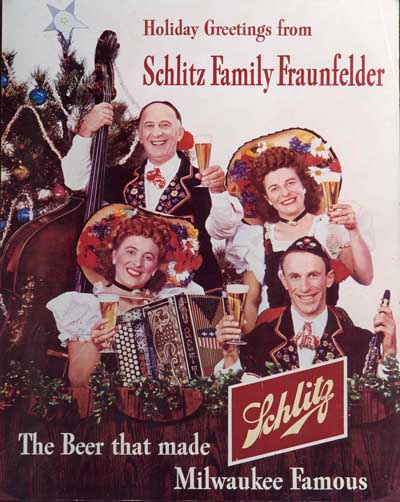 Schlitz Family Fraunfelder poster from the late 1940s, a digital restoration by Boston Harbor Photography, Olympia.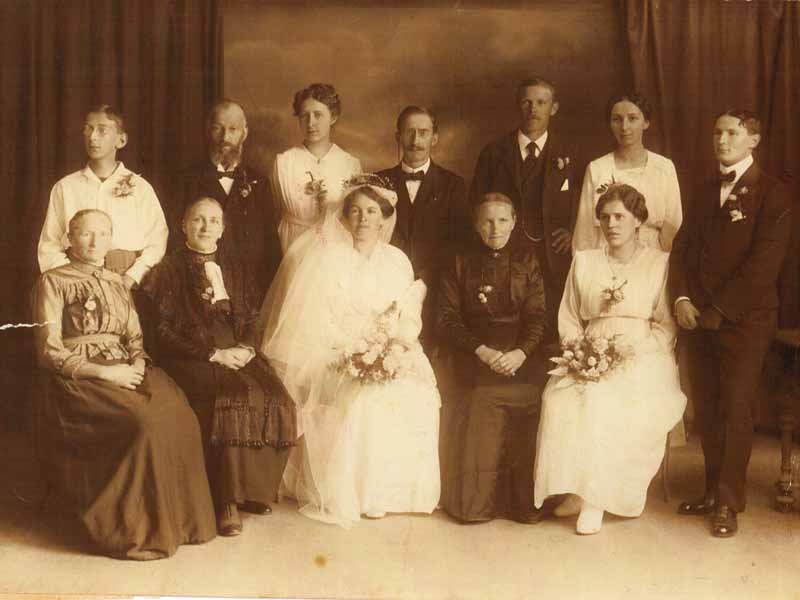 Marriage of Reinhard (Papa) and Frieda Fauenfelder, Switzerland, 1918 (Courtesy Fritz & Yvonne Fraunfelder)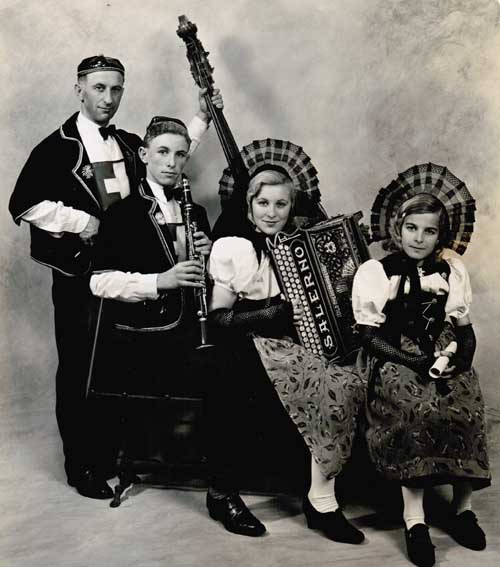 Swiss Family Fraunfelder in 1934 photo taken in Pasadena, CA. The children are listed as ages 15, 17, and 19.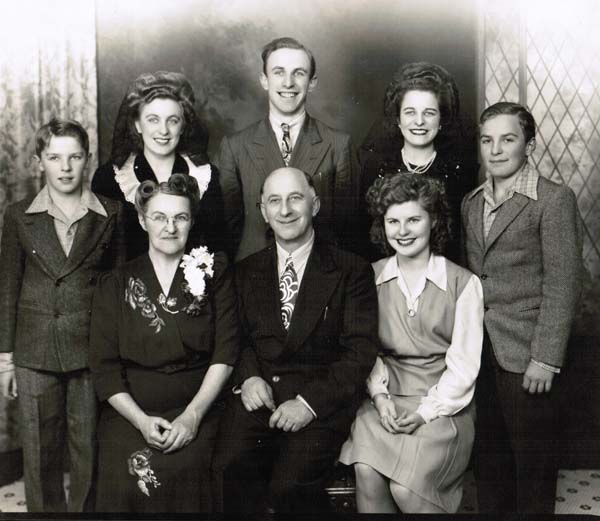 Reinhard (Papa) and Frieda Fraunfelder with all six children. Taken in Madison, Wisconsin in 1946. Seated to Papa's left is Frieda and to his right is daughter Helen. Standing from left to right are Fritz, Betty, Reiny, Ruthie and Hansi.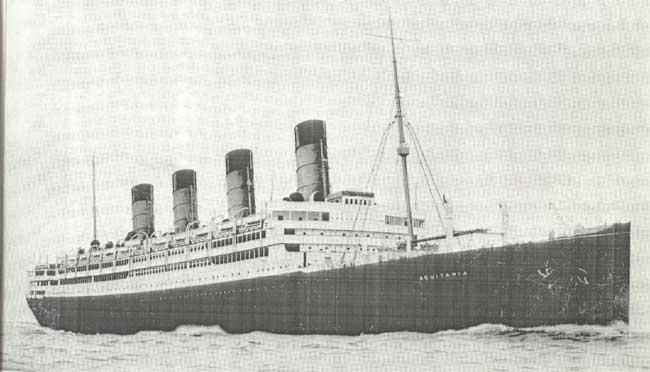 The Aquitania, the ship that brought the Fraunfelders to the United States in 1923.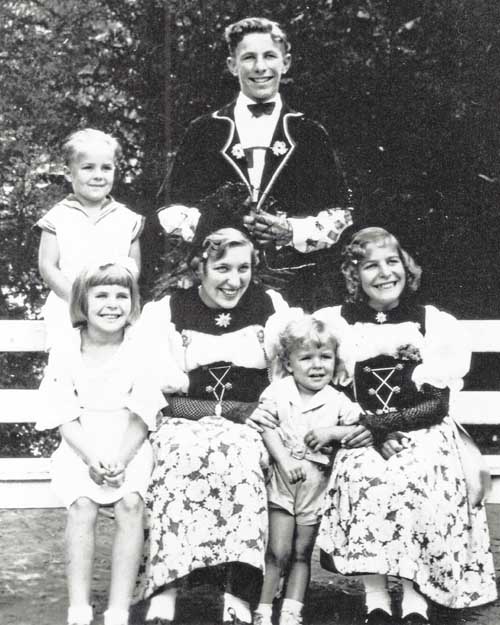 The six Fraunfelder children in the 1930s:
John and Rheiny are in the back. Front is Helen, Betty, Fritz and Ruth. (Photo courtesy of Sonia Redmond)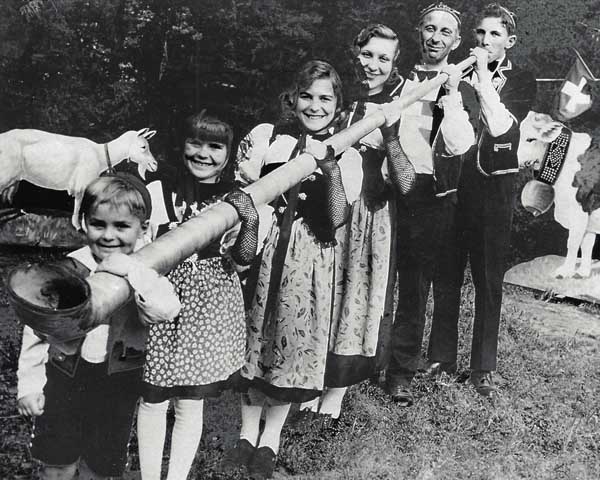 With an alpenhhorn, from left to right is Hansi, Helen, Ruthie, Betty, Papa and Rheiny . (1936, Pasadena, CA)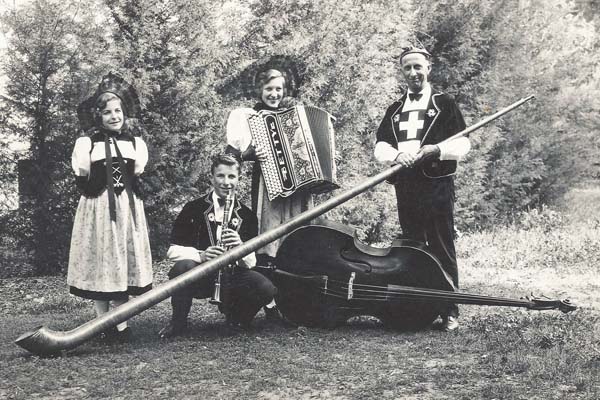 The Swiss Family Fraunfelder billed itself as the "Swiss Echo Yodelers" in the early years.
(Alpenhorn photos courtesy of Sonia Redmond)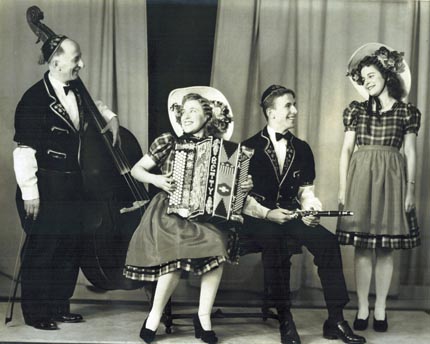 Photo taken in Madison, Wisconsin, in 1943.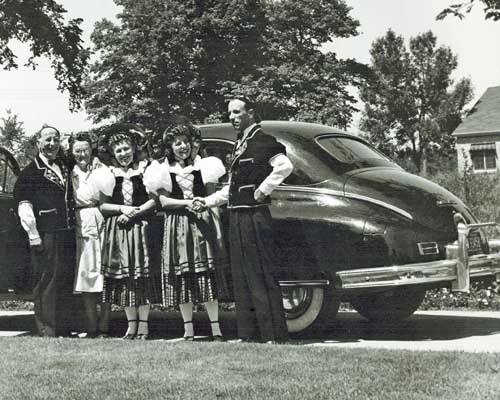 The Fraunfelder Car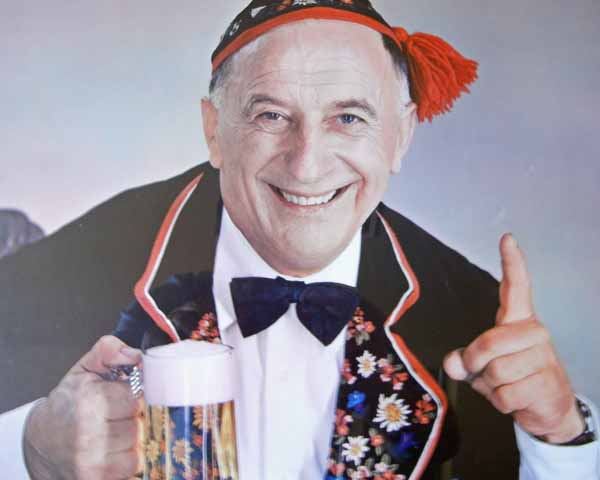 Take it from Papa, Schlitz promotional picture, probably in the late 1940s.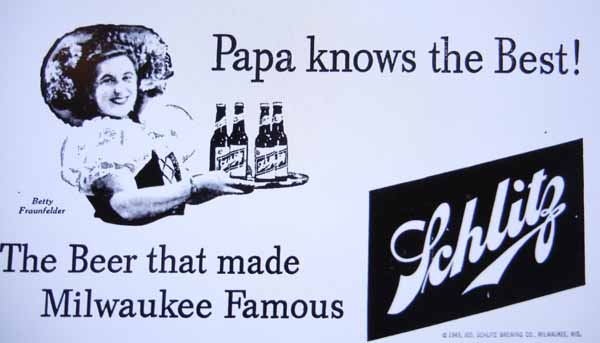 The bottom section of Schlitz Beer Ads featuring Betty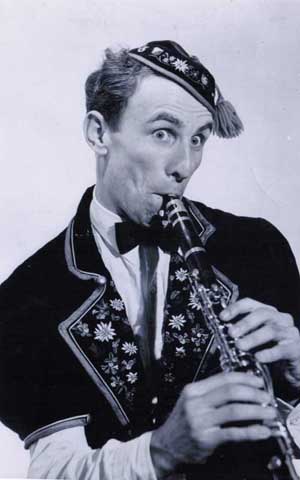 Adding comic entertainment to the Fraunfelder act was Rheiny Fraunfelder, one of three sons of Papa (and three daughters.) Also, Rheiny had a distinctive low yodel, played the clarinet and sang a touching tune about a Swiss boy called "Glarner Bueb." Note in this picture he wears the Swiss "beenie" hat. The hat tradition reportedly was used by Swiss as protection when their heads rubbed up against a cow during milking. The head went against the cow for added support on a single-legged stool.
Click HERE for the Glarner Bueb song.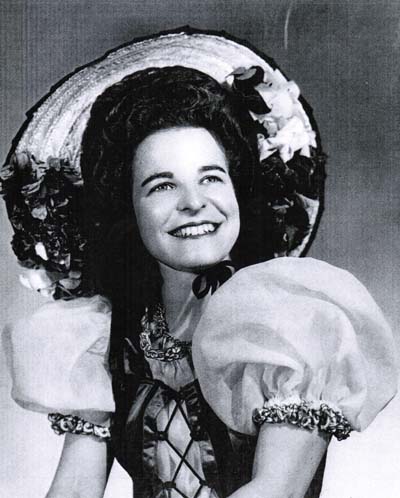 Ruthie Fraunfelder, 1948
Ruthie was the alto singer in the group. She yodeled and played piano for the Fraunfelder quartet

.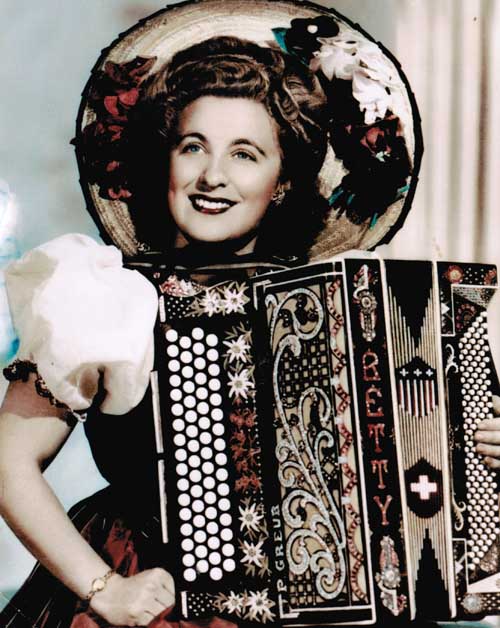 Betty sang soprano. She is pictured here with the Greub button (chromatic) accordian she used through the 1940s until she purchased a new one in 1964.

.
Papa, a baritone who taught music and yodeling to the others, played the bass fiddle which he called "Grandma." He was responsible for arranging the music, writing some of the songs they played, and leading the group. He is pictured here in a Schlitz beer ad.

.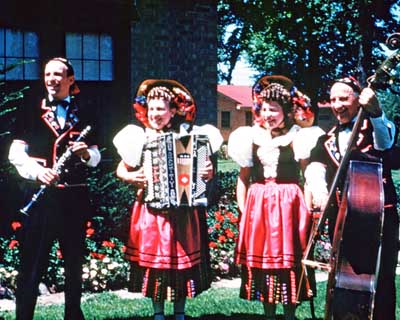 The Fraunfelder Quartet, Circa 1949; Wisconsin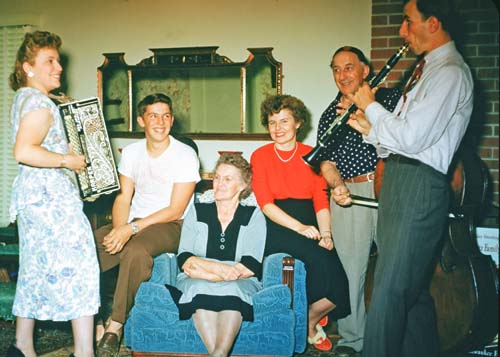 Betty, Fritz, Mama, Helen, Papa and Rheiny. Circa late 1940s.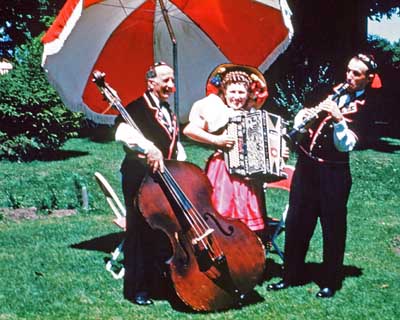 Papa, Betty and Rheiny. Circa 1950.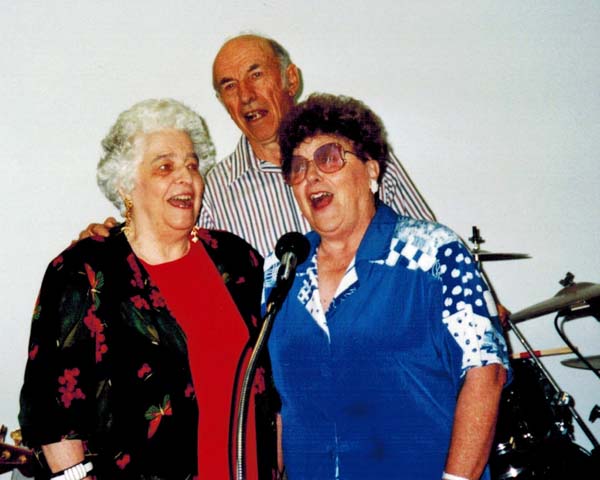 Ruth, Rheiny and Betty in perhaps their final performance together for family and friends later in their lives.
The Fraunfelder story

They were the "Swiss Family Fraunfelder," a unique family ethnic yodeling and singing group

led by the father and music composer, Reinhard "Papa" Fraunfelder, a bass vocalist on the bass fiddle;

daughter Betty Fraunfelder (Ganders,) a soprano on the chromatic accordian; son Rheiny Fraunfelder, a comic tenor on the clarinet; and daughter Ruth Fraunfelder (Buckley,) an alto

singer on the piano.

Their career spanned about three decades: entertaining American soldiers, promoting Schlitz Beer, advertising dairy products, flirting with Disney and the motion picture studios, performing live radio shows, singing for the "Chatauqua Circuit," yodeling at state fairs, cutting records, and much more.

They billed themselves as "The Only Four Part Yodelers in America" that sang "Melodies from Switzerland."

If they didn't achieve the fame their paternal leader sought and promoted, their touring Packard car and teardrop trailer cruised down many of the same roads of the famous in music and movies in the 1930s, 40s, and 50s.

At left, they are pictured in a Schlitz Beer poster in what may have been the peak of their musical careers, December of 1949.

Frauenfelders in the 1600s



The ancestors of these yodeling Swiss German family musicians directly date back at least to the early 1600s, to Hans Konrad Frauenfelder, who lived in the very small village of Adlikon in the canton of Zurich (historic population since the

Papa Fraunfelder, 1922
At the time, the name was spelled "Frauenfelder"
17th Century is around 250-500). His son, by the same name was born in 1663.

Reinhard and Frieda

Nine generations later, Reinhard "Papa" Frauenfelder was born in Wildegg, Switzerland, in the canton of Aargau. Papa's father, also named Reinhard, and grandfather, Konrad Frauenfelder, were both ministers. It is believed that his father was married to Katherine (Neemeier) Frauenfelder, although that record has not yet been confirmed. (His parents are pictured at right.) His grandfather was married to Anna Glauser.

The most famous citizen of the Swiss region where the Frauenfelders resided was U.S. actor Yul Brynner (1920-1985.)

Papa was engaged to a local girl from wealthy Fehlmann family. But when she died of tuburculosis during the engagement, he proposed to and married her older sister, Frieda, who would later be known to many as "Mama Fraunfelder." "Papa" and "Mama"





Papa's Swiss Parents



started a family in the Swiss village of Amden, south of Adikon in the canton of St. Gallen.

1923 - Leaving Switzerland for the USA

Reinhard (Papa) seemed to have behavior that the Germans and later Americans called "wunderlust." Five years into his marriage and 28 years old, he took his 34-year old wife, Frieda or "Mama" Fraunfelder, and two young children, Rheiny, 3 years old, and Betty, 1 1/2 years old, from a home near the region where their ancestors had lived for generations.

Leaving this ancestral homeland behind, they departed to the port city of Cherbourg, France. From there, they boarded the Aquitania ship July 14 and arrived in the United States on July 23. While this was the biggest trip, the family would move many, many times in the future. But they would never return to the Alps. By the family's own calculations, they would live in 27 locations in the United States.


Papa, Mama, Rheiny & Betty, 1922
Switzerland

Show Business in California

Papa, a choir director and organist, was fixed on an entertainment career and he took his family directly from New York to Southern California - perhaps meeting up with Swiss show business friends that had preceded them.

Some of those Southern California years were very difficult and Betty Frauenfelder would later recall that the children in the family, which eventually totaled six, often went without shoes and other essentials.

The fourth member of the musical group, Ruth or "Ruthie", was born March 25,1924 in Van Nuys, California. Three other children were born but were not part of the performance group that ultimately evolved. Helen was born Sept. 12, 1928 in Anaheim. When she was very young, she was pictured in Swiss costume with Papa, Rheiny and Betty -- indicating that Helen may have initially been a young performer. The fifth child, John or "Hansi,"was born June 22, 1930 in San Fernando.



Rheiny, Ruthie & Betty
Early 1930s
At about the time of Hansi's birth, Reinhard and Frieda operated a chicken ranch called "Poorman's Poultry Products Company" on Orangewood Road near Anaheim. The exact location is not known but Orangewood Road is just blocks away from Katella Avenue and Disneyland. Reinhard would later say he left that business after thieves stole all his chickens. Later they lived in a Pasadena home on Walnut Street near the Rose Bowl.


The sixth child, Frederick or "Fritz " or "Fritzi" was born in 1934 in Pasadena.

Today Fritz is a prominent opthalmologist best known for his work with cancer of the eye. The author of many publications and books, he is the founder of the Casey Eye Institute at Oregon Health and Science University in Portland.

Papa Fraunfelder and "The Swiss Echo Yodelers"


Fritz Fraunfelder
Fraunfelder Family Reunion
Wiffleball Coach, 2010
Early in the 1930s, the family act performed under the name, "Swiss Echo Yodelers."

Sometime between 1934 and 1938, the Frauenfelders' decided to drop the "e" and
"Americanized" their names to Fraunfelder. There were other name changes. Rheinhard changed his name to Reynard, Raynard, William, or Raymond but was best known both on and off stage as "Papa Fraunfelder."





By 1935, the group consistently started referring to itself as the "Swiss Family Fraunfelder."





Snow White and Dopey's Fraunfelder voice



Their promotional material included credit for Walt Disney's 1937 blockbuster, "Snow White and the Seven Dwarfs." Videohound has the family listed among untitled movie sound credits. And a 2001 "Platinum" DVD of the Disney movie includes a special feature of a rough unidentified

recording that sounds very much like their yodeling voices. That recording may have been the basis for music that was mixed to become "Silly Song" in the movie.






Rheiny



The Fraunfelders claimed Young Rheiny was the yodeling voice of "Dopey," a dwarf character that otherwise did not speak. Confirmation of the Fraunfelder's involvement was contained in a 1976 interview with longtime Disney sound man, Jim McDonald: "In the early days, way back onto Snow White, they had the Fraunfelder family, a Swiss family, and they did a lot of the yodeling for the dwarfs.

"I played in the band; I played jugs and ocarina and different things," said McDonald.

McDonald said the yodeling was a request of Walt Disney himself.



But as the movie production stretched on, McDonald said the Fraunfelder sound was reworked and McDonald himself filled in with some of the yodeling. Yodel researcher Bart Plantenga writes about the Fraunfelder/Dopey connection in his 2012 book, "Yodel in Hi Fi." Plantenga said Pinto Colvig, the voice of Sleepy and Grumpy, is also sometimes given credit for Dopey's yodeling voice. "Other sources mention Wesley Tuttle or Zeke Clements," Plantenga said.
The Covina Argus in California reported Nov. 22, 1935 that 13-year-old Betty Fraunfelder had a contract with "Mickey Mouse Productions" to provide sound effects for animation. That has not been verified through other sources.
MGM, Universal and a confrontation with Disney

Part of the confusion or reluctance to attribute Snow White credits to the Fraunfelders may be due to a later court confrontation between Disney and the family.

Papa used the experience to promote the group for many years in the future and described himself as the "yodeling coach" for Snow White.

However, on Oct. 15, 1938, United Press reported that the Fraunfelders brought a $50,000 suit against Disney for using their melodies without permission in Snow White.

United Press reported that Papa yodeled for the jury. Newspapers reported that the judge dismissed the suit, saying he could not "tell one yodel from another."

The Daily News of Huntington, PA, reported in early 1940 that Papa also sued Universal Productions over use of his yodeling in the motion picture "Mad About Music" (starring Deanna Durbin) without compensation.
The Internet Movie Data base does list the Fraunfelders as uncredited yodelers in two 1938 Metro Goldwin Mayer pictures, "Paradise for Three" and "The Great Waltz." IMDb lists both Betty Fraunfelder (about 16 years old) and Ruth Fraunfelder (14 years old) as uncredited yodelers for The Great Waltz. However, some recent prints of the movie do not seem to contain any yodeling. Papa and Rheiny were uncredited yodelers in Paradise for Three, a romantic comedy with Robert Young set in the Alps, according to Turner Classic Movies data base. The family's flyers also claimed music contributions in "Melodies in Spring."
The Chautauqua Circuit
In 1939, the Fraunfelders were on the last years of the "Chautauqua Circuit," performing for community gatherings across the country where people would also listen to political speakers
like Franklin Roosevelt, evangelists, and diverse musical bookings like the American Opera Company and country fiddlers.

Grace Moore, a Broadway and film singer with an operatic voice, and Eleanor Roosevelt shared the same circuit with the Fraunfelders during this era.



Click HERE

for more information and Library of Congress Fraunfelder posters from the Chautauqua Circuit.

The San Diego County Swiss Club was a stop for the Fraunfelders on Dec. 8, 1939. At that point, the group performed a number of waltz and folk tunes from Switzerland followed by a skit and "sound" films that Papa used to promote the Swiss-based Red Cross. These may have been components of the program they used on the Chautauqua Circuit.
Click HERE
to view a program for Fraunfelders at Germania Hall.
The family spent the 1940s on concert tours throughout the U.S. and Canada and participated in USO tours for World War II troops and had hundreds of performances at Veterans Hospitals.

They also often performed at service clubs, schools, and small concert halls. Their program sometimes included slides and movies of Switzerland.

The family appeared on stage with stars of the day such as Tom Mix, Edgar Bergen and Charlie McCarthy, Eddie Cantor, Rudy Vallee, Caesar Romero, Edward Everett Horton, and the Horace Heidt Orchestra.




Rheiny and Ruthie




The family often referenced a resolution praising their performances that was passed by the California Legislature in 1940. Perhaps more noteworthy than the resolution itself was the special reception where it was presented to the family. The presenter was newspaper cartoonist and actor Leo Carrillo (perhaps best known for his role as "Pancho" in the 1950-56 syndicated television series, "The Cisco Kid." )
Wisconsin and Schlitz Beer
But perhaps the greatest fame for the family came when they were under contract with Schlitz Brewing company for more than 600 events including television, radio, and personal appearances. For this, the group was temporarily renamed, "The Schlitz Family Fraunfelder."


Papa Fraunfelder told the Milwaukee Journal that the family had performed for 200 Wisconsin schools in the spring semester of 1941. They resided in different locations in Wisconsin, living in Elm Grove, Madison, Whitewater, Elkhorn and Milwaukee. From Wisconsin, they traveled throughout the Midwest, South and East. But they performed primarily in Wisconsin and Illinois

They gained enough fame by 1941 that an emergency appendectomy surgery for 19-year-old Betty Fraunfelder made the news in the Nov. 18 edition of the State Journal newspaper in Madison. The paper reported that the emergency surgery forced the Swiss Family Fraunfelders

Betty and her dachshund, "Teddy"

to cancel appearances in Boston, Philadelphia, New York, "and other Eastern cities."

These were the years of World War II and people were fearing for the future of Switzerland against Nazi Germany. "We've had dictators before in Europe and the Swiss sent them all home with bloody head," Papa told the Journal reporter. . In his memoirs, Donald E. Van Scotter, wrote about his Elkhorn neighbors, The Swiss Family Fraunfelder. He wrote that they lived in a a house

so large that the previous owner, a congressman, had servants. The Fraunfelders were "a talented musical family and they had a large grand piano in their living room," he said.

They did a steady business of performing at fairs and company picnics in the Wisconsin dairy region with many Swiss immigrants.

A Milwaukee Journal article announced Papa Fraunfelder was appearing on a regular WTMJ radio program three times each week beginning July 18, 1949. It was sponsored by Schlitz.

Schlitz bought display advertising with photos of the family and the advertising slogan was "Take it From Papa, Papa Knows Best...The Beer That Made Milwaukee Famous." The ads featured "Papa" raising his finger but often also pictured





Papa Schlitz



Betty, Ruthie and Rheiny.
Rondo Records - 1947 to 1950
Robert L.Campbell, a Clemson University professor and part-time music historian, reports that the Fraunfelders cut at least three two-sided 78-rpm records at Rondo Records in the fall of 1947 and sold records through at least 1950 on that label. One of the songs was a traditional Swiss
song done entirely in Swiss-German or "Schwyzerdutsch." (The Herd Song, Rondo 569A, Click

HERE

for the Herd Song.) Another featured the group yodeling a waltz about a Cuckoo bird, a song that included imitation cuckoo calls from a wooden flute. It was also sung in Swiss-German (Click

HERE

for Cuckoo Song, Rondo 571A) On the flip side was the "Yodel Laendler," a traditional
Swiss polka. A slow-paced version of the tune, it nevertheless included Betty's signature piercing shriek of joy, Yeh Hee! (Click
HERE

for Yodel Laendler, Rondo 571B.)

Both records listed Papa Fraunfelder for the arrangement. Rondo also released a song called "Garibaldi" with "The Herd Song" on the back. The Fraunfelder records were released in conjunction with some Rudy Plocar polkas. Campbell said his research turned up reports that
Papa Fraunfelder had a heart attack in 1947 which caused cancellation of some Fraunfelder performances. Some Rondo Records may still be circulating as a German dealer sold a RondoFraunfelder record for $19.95 on Ebay in April, 2011. Rondo Records has changed ownership many times and today its assets are part of the former Pickwick Records and Polygram Records.



The quartet becomes an Oregon trio



After finishing up a three-times-per-week radio program on WTMJ in Milwaukee, the Fraunfelders moved to the San Francisco area in 1950. Alpine Record Co., of San




Ruthie marries, 1950
Mateo, Calif., pressed Swiss Family Fraunfelder recordings, and periodically there were small articles about the group in Billboard Magazine's "International" section.


Papa stubbornly discouraged his performing children from marrying - it would likely break up the act.

Ruth Fraunfelder broke the ice. She married Dick Buckley Sept. 2, 1950 in Elm Grove, Wisconsin. Dick was an electrical engineer. Ruth's maid of honor was sister Helen Fraunfelder. Brother John Fraunfelder was an usher.

Ruth and Dick remained to live in Menomonee Falls, Wisc.

The same year, the rest of the family moved again....this time in Oregon's Hood River Valley in what was called the "Tucker Hill district." Papa and Rheiny operated a fruit orchard that they called the "Mel-O-Dee Ranch." Papa told at least one audience that he would dedicate a musical composition to Mt Hood which he said had areas that resonated well for yodeling.





The Trio - Janesville, Wisc

.


One Hood River ranch owned by the Fraunfelders operates today as the Pheasant Valley Winery and vineyard.



The loss of Ruth made an impact on their music. A subsequent release of the Cuckoo Song featured only Betty as a soloist in the opening. Click

HERE

for the later Cuckoo version. A note in the international section of Billboard Magazine in 1953 announced the release of "Ski Yodel Waltz" but noted the market was "pretty limited for this sort of thing." Click
HERE
for Waltz.

The 1950s Milk Run

The Wisconsin Journal reported in May, 1948 that Helen Fraunfelder, the younger sister of Betty and Ruth, was among 16 finalsits for "Alice in Dairyland," the queen that reigned over the Wisconsin Centennial Exposition and apparently promoted milk products. The pageant included an evening gown competition and speaking voice test, according to the report. It is one more example of strong Fraunfelder ties to the dairy industry.

The ad at right promoted a free Wisconsin picnic for dairy farmers sponsored by the Pure Milk Products Cooperative that functioned in the Midwest including Chicago.

A few years later, the Fraunfelders made two songs in Portland that apparently were advertising jingles for "Rocky Mountain" brand milk, a product of the Cache Valley Dairy Association in Utah, founded in 1941 by a Swiss emigrant, Edwin Gossner. At the time, the association was the world's largest supplier of Swiss cheese and is owned by Borden today. Since 1966, the Gossner family operates Gossner Foods in Idaho, California and Utah and specializes in Swiss cheese and milk. The current chief excecutive officer at Gossner, Dolores Wheeler, is the daughter of Ed Gossner and particularly recalled performances by Betty Fraunfelder, according to Jason Simpler, a spokesman for the company. The 1950s title song, "Rocky Mountain Milk" featured vocals by Betty. There was also an instrumental version on the flip side.

Click HERE

for Rocky Mountain Milk jingle. Perhaps related, newspaper accounts talked about the Fraunfelders appearing in Idaho Falls, Idaho, for the Wallaco Dairy Co. on Nov. 4, 1953.

Another Billboard note later in the year told of the re-release of "Song of the Milk Maids," which the author said could be an eye-opener for early morning DJs. (Click

HERE

to hear tune.) The song had also been issued earlier on Rondo records. Some records were released later under the




Helen Fraunfelder, 1954




"Yodel Melody Record Co" label, Hood River, Ore. Ruth, now married, was not on these records. or in their performances. The remaining trio, for instance, performed at the Southeast Washington Fair in Walla Walla in 1952 according to the local newspaper, The Walla Walla Union Bulletin.
Betty's engagement to a San Francisco man, Ernest Waespi, was announced in The Oregonian newspaper (Portland) in February, 1953.

That may have been the last of many failed engagements. She married a state senator from Bickleton, Wash., Stanton Ganders, in November, 1954. They had three children: Larry, Linda and Lisa.

Rheiny married on April 16,1955 (although there were incorrect family reports of a 1954 wedding.) He married Annelise Muecke of Portland, Ore., a graduate of Marylhurst College. They lived in Salem, Ore. and had three children: Ryan, Erika, and Heidi.


T

he 1960s




Betty, who moved to Spokane with her husband and three children in 1960, made some solo appearances in the region, performing for local television shows such as those hosted by cowboy singer Cliff Carl, charitable groups, public schools, nursing homes, and developmentally disabled residents at state institutions at Medical Lake and Lakeland Village. She played Fraunfelder tunes solo plus some that the group did not necessarily performed such as
Toolie Oolie Doolie
(a Swiss Yodel polka made famous by the Andrews Sisters at the peak of their careers in 1948 when it made
Billboard's
top three hits),
Edelweiss
from the motion picture,
The Sound of Music
, and the German tune,
Muss I Denn
(Wooden Heart) that Elvis Presley made popular overseas and in the 1961 movie
GI Blues.


Papa and Handwriting

Papa and Frieda lived in Portland during the 1960s, where Papa turned his hobby of handwriting analysis into a bit of a business and made music, including playing his foot pump pipe organ, his hobby. He taught that "handwriting was brainwriting" and changing handwriting could actually change characteristics of a person. Not in dispute was the fact that Papa had very impressive handwriting. Police consulted him on some
crime case investigations involving handwriting. Check out family

handwriting samples here

and original music compostion at the bottom of the

music download page.



On occasion, music again came from Papa's on Portland's Canyon Crest Drive as friends and family brought their instruments and gathered around his organ to sing and yodel. More often, small groups would gather for handwriting classes taught by Papa from a lectern in his living room.
Papa and Frieda Fraunfelder moved to Spokane in 1975 where they lived in a single-wide mobile home near the former Natatorium Park.

A Spokane Associated Press story on Jan. 6, 1976 quoted 80-yeard-old Papa,as still complaining that Walt Disney "was a hard man to yodel for." Disney wanted happy yodeling," said Fraunfelder.

Well, it took quite a while, I couldn't just take it out of my shirt sleeves," he said. Papa and Frieda moved to Woodburn, Ore., and later Keizer, Ore. in 1985.

Papa died in 1988 at the age of 93. Frieda died in 1990, three months before her 101st birthday.