Elkhorn, Wisconsin, recollections from the 1940s are published in "Small Town Boy," by Donald E. Van Scotter. Trafford Publishing, 2006.
Alpine Records made a number of announcements in Billboard Magazine, such as on March 24, 1951.
Printed program for the Fraunfelder Concert, Germania Hall, San Diego, Calif., Dec. 8, 1939 provided information.
Keating recording studio information provided by HistoryLink.Org. Keating recordings transferred from 78 rpm acetate to digital by Chinook Wind Recording, University Place, WA.
Rocky Mountain brand milk information produced by articles in the Ogden Standard-Examiner, particularly March 10, 1954, page 11A, Ogden, Utah. Other information provided from a number of sources including
www.gossner.com
Heather White of Rancho Palos Verdes, Calif., said the Fraunfelders were friends for many years with her father, now 93 years old. Her father, Doug Ross lived in Glendale, Calif. The Ross's and the Fraunfelders vacationed together at Mt. Baldy, where Doug had a cabin and photography studio. Heather provided some photos and clippings used on this website including a circa 1938-40 photo of Betty playing the accordian.
This website is listed by

Swiss Center of North America



Music links on this site can be played on Windows, Macs, or Ipads using the free Apple Quicktime plug-in at:
http://www.apple.com/quicktime/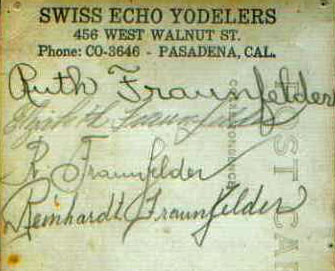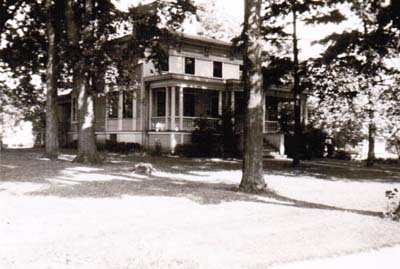 Fraunfelder Home, 1945-46
Elkhorn, WI