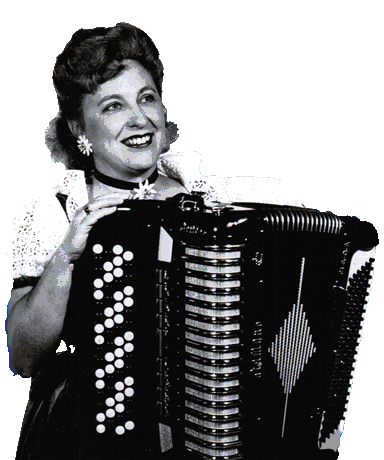 Early photo of Betty, 1938-40
Early photo of Betty Fraunfelder, the accordian with her name seems to indicate this was 1938-40. The back has the family address (456 W. Walnut St.) and phone number (CO-3646) in Pasadena. Special thanks to Heather White for sharing this with us in July, 2015. Heather, from Rancho Palos Verdes, Calif., said the Fraunfelders were friends for many years with her father and mother. Her father, Doug Ross lived in Glendale, Calif. The Ross's and the Fraunfelders vacationed together at Mt. Baldy, where Doug had a cabin and photography studio.
Betty Fraunfelder Ganders performs: 1960s



Betty played at least four accordians in her career. Betty's early accordian was a Salerno, an Italian accordian company that often made models for students. Later, perhaps still in the mid-1930s, she played an unidentified accordian that was apparently custom made for her, with "Betty" spelled in very large letters.

Next, audiences saw her with a rhinestone-covered accordian built just for her. She played it from the early 1940s until 1964 (it appears in the Schlitz beer photos.) It was built by Paul Greub (pronounced Gribe), a fellow Swiss immigrant who did custom orders in his one-man San Francisco manufacture and repair shop.

Greub was an accordian manufacturer known for his style and glitz and spared little in making Betty's. For instance, it had a keyboard lined in jeweled edelweiss (white alpine flowers.) The name "Betty" was spelled out in rhinestones. Betty's family still owns the Greub accordian.
I
n 1964, Betty purchased a new accordian that had been manufactured under the Diamond Accordians brand in Italy. Custom built by for her and bearing her name, it was the only all-button accordian made by Diamond. It was hand assembled over the period of months and perhaps years by the Alberto Morbidoni Company in Castelfidardo, Italy (known as the "City of the Accordian.")
The company also manufactured "Dega" accordians for sale in the United States. Chromatic accordians, which have buttons instead of a piano keyboard on the right hand side, are fairly rare in the United States. They area a bit more common in some European countries, and dominant in Switzerland.


Sold by Betty in the 1990s, ownership has changed hands several more times. But today it is owned by Michael Arralde, who also owns the Diamond Accordian Co. and is based in Kent, WA. Arralde said he sought to purchase the accordian because it was very unusual and powerful sounding. It had special buttons to produce "Swiss," "Polka," and "German" tones. He calls it the "Ferrari of Accordians." He estimates that the accordian sold for $2,000 to $3,000 in 1964 and is worth twice as much today.

Volunteer Work


Betty performed with the newer ebony-colored Diamond accordian in front of many Inland Northwest audiences in the 1960s. Most performances were for charitable groups, nursing homes and schools which she usually did without charge. That continued the Fraunfelder tradition of supporting charities, dating back to promoting the Red Cross during World War II and performing in schools. But her contributions to charitable causes went beyond music.
Betty continued as a volunteer for the Spokane Shrine Hospital and the American Cancer Society before and after her husband's death in 1990. She made afghans for the hospital and worked on correspondence regarding memorial contributions. Prior to Betty's death in late 2008, the cancer society office named its conference room in honor of the volunteer work of Betty (Fraunfelder) Ganders (pictured right.)





During a family visit to the offices with Betty, cancer society officials played Swiss Family Fraunfelder music in her honor. She associated with a number of Swiss-born Spokane friends who often went to lunch together and spoke Swiss-German

.