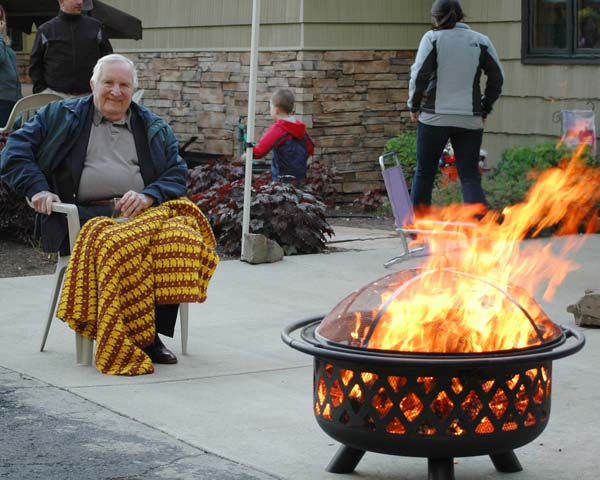 Richard Buckley at the Fraunfelder Reunion near Mount Hood, Oregon, 2010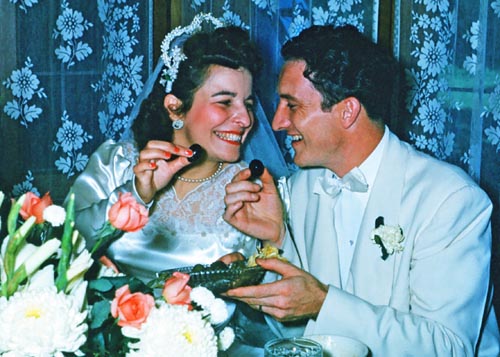 The marriage of Ruth Fraunfelder and Richard Buckley, 1950.
Richard J. Buckley
, age 93, of Menomonee Falls, passed away on Wednesday, April 20, 2016 in Mountain View, California.

Richard was born December 18, 1922, in the Town of Sherman, the son of Herb and Nora (Schill) Buckley. He graduated in 1940 from Menomonie High School and attended the University of Wisconsin- Madison, taking a leave from school to serve in the U.S. Army Air Corps as a sergeant in the 309th Air Engineers Squadron during World War II in Guam. Upon returning from the war, he completed his degree in Electrical Engineering at Madison.

While in college, he met his beautiful wife Ruth when she was performing as a vocalist for the Swiss Family Fraunfelder, a national yodeling and singing group. They married on September 2, 1950. Richard was a devoted husband, father and grandfather. He was a sports enthusiast, was always in attendance for his children and grandchildren's sporting events and was especially proud of all of their accomplishments.

He will be remembered for his kind, gentle nature and his sharp mind and problem solving abilities, especially his math and engineering skills, even taking up bridge in his final year of life.

Richard worked his entire career as a plant superintendent for Sprague Electric and Cera-Mite in Grafton, Wisconsin until his retirement in 1991. Richard was a former President and lifetime member of the Amvets and an active member of the American Legion.

He is survived by one daughter, Helen Buckley of Chattanooga, TN and three sons, Robert (Marlene) of Mequon, WI and their children Megan, Kelly and Nick, Jim (Sue) of San Jose, CA and their children Shannon and David, and John (Wendy) of Woodside, CA and their children Peter and Alexander; his brother-in-law and close friend Fritz Fraunfelder of Lake Oswego, OR; and his many nieces and nephews who he was so fond of.

He was preceded in death by his parents, his wife, Ruth in 1997, and four brothers, Leonard, William, Cyril and Donald. The family would like to thank Dr. Jim Williams of Mequon, Wisconsin and Dr. John Madej of Portola Valley, California for their sensitive care of Richard over the years. The family is having a private service and military burial in Menomonee Falls, Wisconsin.

There will be a celebration of life dinner at Timmer's Resort 5151 Timmer Rd., West Bend open to family and friends on May 12 after 5 PM. In lieu of flowers, the family asks for memorial donations to the OHSU Casey Eye Institute, gift online or call 503-228-1730.